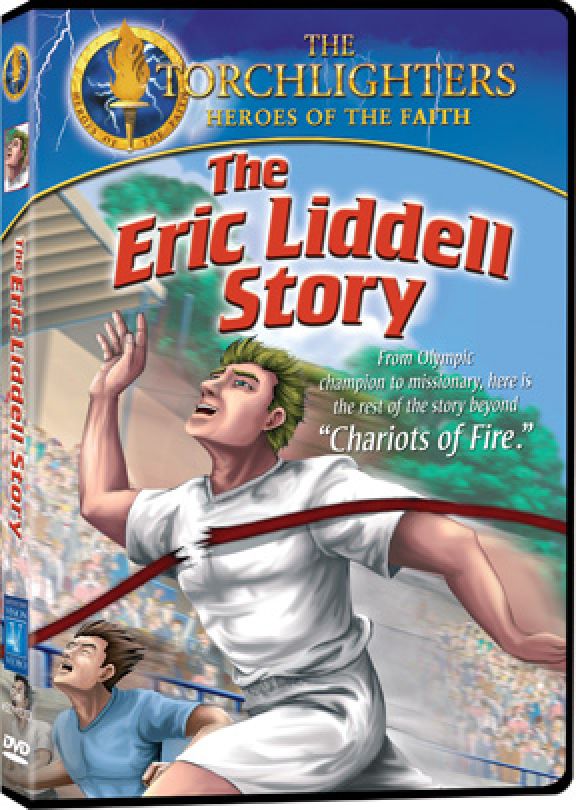 I love what the Torchlighters series stands for in terms of Children entertainment and the message that they want to convey. Each film of this series shows an example of a man or woman who created an impact on their generation. People who stood up for their faith and weren't ashamed to do so. Some with simple acts of faith were able to overcome many trials with the Lord's help.
The Christian movie Torchlighters: The Eric Liddell Story tells the story of Eric Liddell, "The Flying Scotsman", a man who participated in the 1924 Olympics in track. It was the race of a lifetime and Eric was ready to put the Lord's name on high during this race but little did he know that there was an even bigger race God had him in mind for. Eric was in for a big surprise and an even bigger audience was about to witness what God was going to do through him.
At the beginning of this Christian movie, we know that Eric is Scottish but yet he was in China. It turns out that Eric's parents were both Scottish missionaries serving in China so basically Eric had these two countries in his heart, both of them were a part of him. Even though his parents created a wonderful environment at home, China was indeed an unsafe place for young boys so Eric and Robert, his older brother, were set to attend boarding school in Scotland. Years later, Eric from the Christian DVD Torchlighters: The Eric Liddell Story obviously grew in stature and became really athletic. When it came to going to college, he attended Edenborough University where he was already considered to be one of the best runners in the whole country. Soon he was setting records and was seen and praised in every Scottish newspaper around.
In 1924, Eric from the Christian DVD Torchlighters: The Eric Liddell Story was set to compete in the Olympics being held in Paris. The entire nation of Scotland anticipated a sure victory. But when Eric hears that the final race would be held on a Sunday, he chose not to compete. He didn't want to put himself, or his personal fame above the day of worshiping the Lord. The newspapers were stunned and extremely disappointed so they didn't shy from insulting the young man in their publications. Eric stood strong and would not compete in that 100-meter race but he did intend to race the 400-meter race. The thing is that Eric was never good in that specific race plus running against him were two record holders.
The time for the race arrived and even though he thought he didn't have a chance at winning, he was determined to give his all to God and do the best that he could. Then a miracle happened that shocked everybody, Eric won the gold medal plus set a new record. Wow! The newspapers seemed to love him again but soon Eric announced that he was quitting running to pursue a calling to the missions in China.
It was 1925 when Eric Liddell began his journey back to China where he spent the beginning of his childhood. There he worked as a teacher in a boys' school run by the British where he taught them about running but most importantly he taught them about God. He really wanted to redirect people towards God's kingdom. Years later, Eric from the Christian movie Torchlighters: The Eric Liddell Story married Florence Mackenzie, a British missionary, and they had three daughters. But soon China became very dangerous as a war was beginning and the Japanese were a sure threat. Florence's family pleaded her to go away and be somewhere safe during that time so she and her kids transferred to Canada but Eric remained in China and remained in a poor province.
As war increased in WWII so did the tension between the Chinese and the Japanese but Eric remained faithful to the Chinese people and continued serving them. At one point in the 1940s, Japanese troops take Eric to a camp. His faith was the courage and strength needed in this difficult time.
What will happen to Eric Liddell?
Make sure to purchase Torchlighters: The Eric Liddell Story, a movie for the whole family, at the fishflix store!
Here is other Torchlighters material that I recommend:
Torchlighters: The Jim Elliot Story DVD
Torchlighters: The John Bunyan Story DVD