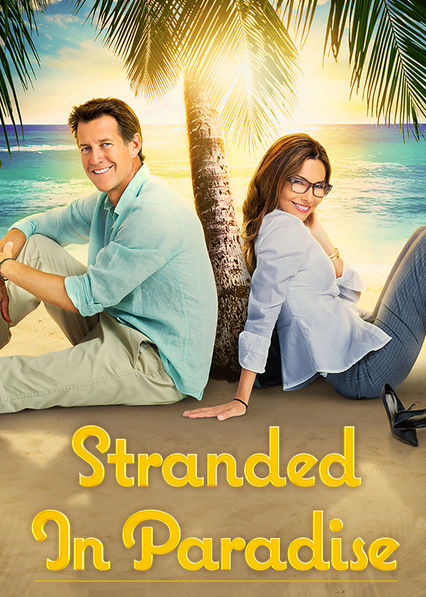 If you love Hallmark Channel movies you definitely need to see this Christian movie. I absolutely love this one and I believe that you enjoy this kind of movies you'll definitely like this one. Starring in Stranded in Paradise is Vanessa Marcil (The Nanny Express) and James Denton (Grace Unplugged).
Stranded in Paradise is about a successful Human Resources executive who loses that prestigious job and travels to Puerto Rico for a business conference in the attempt to save her career. There she encounters several problems and meets a special someone.
In the Christian movie Stranded in Paradise, we meet Tess Nelson. She's an HR executive and does her job very well. She continually likes to better herself and go to the next level regarding her job. She has motivation and does a good job making decisions. All she wants to do is keep working hard to secure a space in that company in the future. Now Tess is expectant to receive a long-awaited promotion and is really looking forward to that. But quite frankly the promotion doesn't land in her hands, she actually loses her job because the company was having some cutbacks. This, of course, devastates Tess and her future is suddenly unknown, work is everything she's ever known and doesn't know what step to take next.
Before knowing she was going to lose her job, Tess from the Christian DVD Stranded in Paradise had a scheduled trip to Puerto Rico to attend a huge business conference. Originally she was headed there to find jobs for those that the company was going to lay off, now she's one of those looking for one. She doesn't say anything and heads to her trip having her mindset in saving her career and secure her place in the business world. She has hopes of impressing the executives over there and convince them to give her a job. Sounds easy right?
Tess from Stranded in Paradise is with a positive outlook as she flies to her destination. Even though life as she's known it has completely turned, she has hopes that she can save her career, the career she has built for many years. With her positive attitude and business knowledge, she is sure that she'll get a new job, one that will offer her even more things than the previous one. But when she arrives things begin to go awry and the original plan she had was beginning to fall apart. The business conference presented in this Christian DVD is not going as planned and to make matters worse, the island is in shutdown as a hurricane is headed its way. Her plans are ruined and is now stuck. However, on the island she meets Carter, a man dedicated to traveling the world and someone who is quite free-spirited. He looks at life with much appreciation for it and is constantly on the lookout for adventure. His focus is living life, on enjoying it and not giving too much importance to money, power or a prestigious job. Even though Carter is so different from Tess, she can't help but feel attracted to him somehow and wishes she had his open mindedness and free spirit. The way he lives life and his personality is something she can't easily take her mind off of.
Since the conference has been canceled because of the hurricane, Tess has forgotten that she's on a beautiful island and she can just go out and explore. Carter helps her see that, he helps her focus on what's all around her, the beauty of it all. Carter helps Tess enjoy life, even the little things, to not be extremely preoccupied with different things. What I love about this movie and these two characters is that even though they're both so different, they both influence each other in a positive way. Like eventually they realize that they can learn much from each other. They form a great friendship while stuck on the island and now the future seems a lot brighter than they thought it would be. Also as they develop feelings for each other, it makes both of them think about how their lives can take a different turn than the one they imagined at first.
If you want to know if Tess and Carter get to return home or if they stay on the island, check out the Christian DVD Stranded in Paradise which is available at www.fishflix.com!
Now I'll mention some of my favorite Hallmark's Best movies:
When Calls The Heart Complete Season 1 Boxed 10 DVD Set