In 2001, Christan band MercyMe released their debut album Almost There which included their first single "I Can Only Imagine". This song was written by lead singer Bart Millard and his father's death inspired him to think about what would it be like to stand before God in Heaven. The song became an instant hit, as it was receiving major airplay in Christian radio and later crossing over to mainstream radio. "I Can Only Imagine" continued climbing up the Billboard charts where it achieved the number 5 spot in the Billboard Adult Contemporary. It received many Dove Awards like Song of the Year and many others. People around the U.S. and the world were captivated by this beautiful song and story.
Years later, Bart Millard's story & inspiration for the massive hit has been made into a movie for everyone to enjoy. This Christian movie is directed by the Erwin Brothers who have other successful faith-based movies under their belt like October Baby (2011), Mom's Night Out (2014) and Woodlawn (2015). I Can Only Imagine tells the story of MercyMe's lead singer, Bart Millard, who when losing his father due to cancer is inspired to write the band's most iconic song "I Can Only Imagine".
At the beginning of this Christian movie, the audience can see that 10-year-old Bart Millard comes from an abusive home and he is dropped off at a Christian camp by his mother. It is in this camp where Bart meets who will become one of the most important people in his life, Shannon. After camp, Bart finds out that his mother has left and all her belongings are being moved away from the home. This means that his dad Arthur (played by Dennis Quaid) has taken custody of him.
Later on in high school, Bart (played by J. Michael Finley) wanting to impress his father, starts playing football. But as the season begins he gets injured which ends his run as a football player. Bart still needs to take another class that would fulfill his credits of playing football so he enters music class which is Millard's only option. In music class, Bart is initially assigned to be the sound technician but when his teacher hears him sing one day, she casts him automatically as the lead role of the school production of Oklahoma, the musical. It's during this time that Arthur suffers from severe abdominal pain and it turns out he is diagnosed with cancer which he decides not to tell his son or Shannon (played by Madeline Carroll), who was now Bart's girlfriend.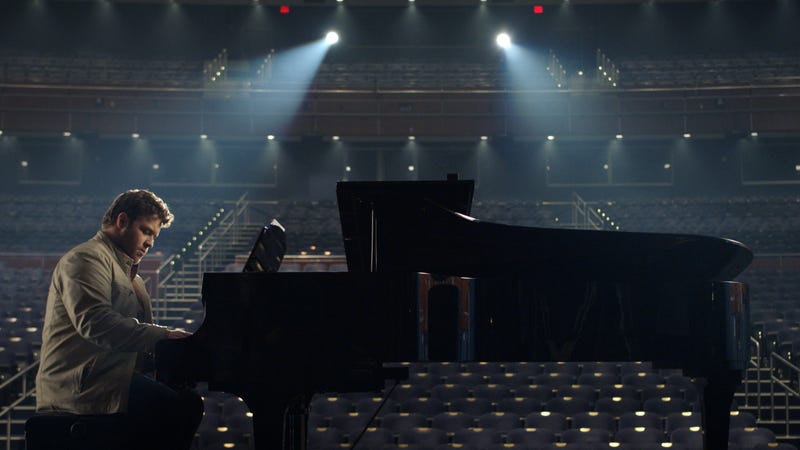 One day Bart from the Christian movie I Can Only Imagine desires to vent his frustrations to his father but Arthur assaults him, this really frustrates Bart more. Shannon tries to encourage him to open up but hastily he decides to break up with her and chooses to leave the city after their graduation.
Soon Millard from the Christian movie I Can Only Imagine meets those who would, later on, become his bandmates and they all catch the eye of Christian producer Scott Brickell (played by Trace Adkins) who takes on the job to coach Bart and gets the band to perform in a showcase being held in Nashville. Millard has tried to reconcile with Shannon but she rejects his invitation to go to the Nashville showcase. In Nashville, Bart and the band perform and they believe it was a really good performance but industry representatives think otherwise. They don't think the band is good enough to sell records. This, of course, breaks Bart's heart so he chooses to quit the band. His manager Scott Brickell had always encouraged Bart and this time it was no exception, he encourages Millard to resolve the issues he had with his father. It's in this moment where Millard returns to the band but he wants to reconnect with his father before playing again.
Will Bart and Arthur resolve their issues? Will Millard be able to forgive?
To know what happens next be sure to see the Christian movie I Can Only Imagine!
It's definitely a great movie about hope, family and forgiveness.
"The movie works for the same reason the song does: It lightens the burden of the pain people are shouldering today, and gives them something to look forward to."
– Peter Debug, Variety
Other Christian Family Entertainment films you can check out: