Charlie Brown created by Charles M. Schulz has been on newspapers and television for many years now but yet it's so timely. Kids nowadays can sit down and watch a Charlie Brown/Peanuts movie and still be entertained. It's even better when it's a Holiday movie like this one. I love that the characters and storylines used are family-friendly and filled with great lessons for the young and adults.
This Christian movie is called Charlie Brown's Christmas Tales and it's very much inspired by the comic strips published beforehand! It contains several stories each one having one of the characters from the Peanuts as lead. Also, it has them involved in different Christmas-related situations.
The first story in this Christian DVD is called Happy Holidays from Snoopy. Here Snoopy really wants to be in Lucy's skating show but who she really wants to join her is Schroeder. So Snoopy decides to dress up like Santa Claus and be a bell-ringer to raise funds. But at one point a Rerun confronts him about not being able to deliver some toys Snoopy had promised him last Christmas. Later on, while still dressed like Santa, Snoopy begins playing a song on his accordion, "Oh! Susanna" to be exact. Lucy walks by alongside Linus and makes a comment about how that specific song doesn't speak Christmas. So he changes the tune to "Christmas Time is Here" and Woodstock helps him with his whistling.
The previous story was focused on Snoopy and now the next one is on Linus. This one is called Yuletide Greetings from Linus. Here he is trying to see what letter he's going to write to Santa. The next day, when Linus is at school he meets a girl who constantly changes her name. At this point her name of the day is Jezebel but when Linus points out that that specific name is of a woman in the Old Testament from the Bible who wasn't necessarily liked and was thrown from a window, she decides to change her name to Susan. Linus asks for her address so he can send her a Christmas card but it turns out to be a fake one when the card is returned to him. Linus is indeed fascinated by "Susan".
The next story from Charlie Brown's Christmas Tales is called Season's Greetings from Sally. This story begins with Sally choosing to give paper airplanes to her friends for Chrismas. Later on, we see that Sally wants to cut down a Christmas tree but she doesn't necessarily know how to do it so she decides to just stand there and hope it falls down. The tree that she wants in the yard of a not very nice kid who actually tells her that she can have the tree if it indeed if it falls down. Then a miracle happens and it does actually fall down on its own so happy Sally takes the tree home. But later on, the kid comes to her house and wants his tree back which of course Sally refuses to. The day before Christmas, Sally feels bad so she decides to take the tree back but the boy agrees to keep his promise and lets her stay with the tree.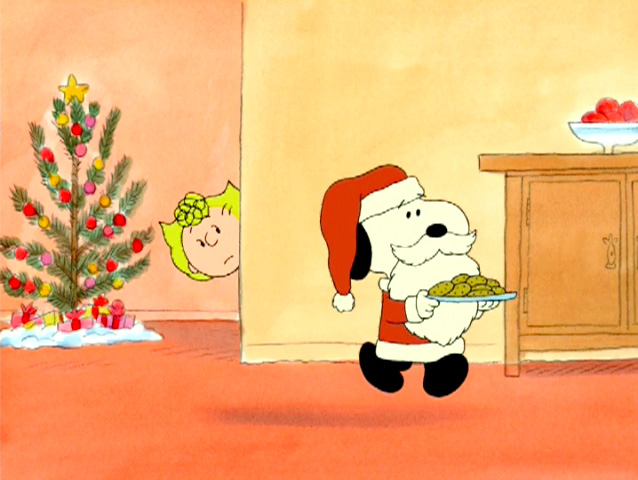 Next on this Christian DVD is Peace on Earth from Lucy. In this story, Lucy is having a difficult time In being nice and makes an attempt to get Linus and Schroeder to get some presents for her. Even though she hasn't been entirely nice she tries to justify that with telling them that they have to buy her presents because the Bible itself includes the word 'sister' and since she's Linus' sister, she has to receive a present.
The last story from the Christian DVD Charlie Brown's Christmas Tales is called Merry Christmas from Charlie Brown. Here both Charlie Brown and Sally are getting ready for Christmas. At one point Sally complains that she didn't get a bicycle she wanted for her dollhouse. Charlie reminds her that maybe the bike was sent but delivered to a wrong address. Sally is still mad about it but hopes that the person who receives it really had the need for it the most.
If you love animated Christian movies or Children's movies, especially those that are Christmas related like Charlie Brown's Christmas Tales, you can find them on the Fishflix store.
Here are some animated Children's movies that I recommend:
VeggieTales Bible Heroes Triple Feature DVD
Torchlighters: The Amy Carmichael Story DVD