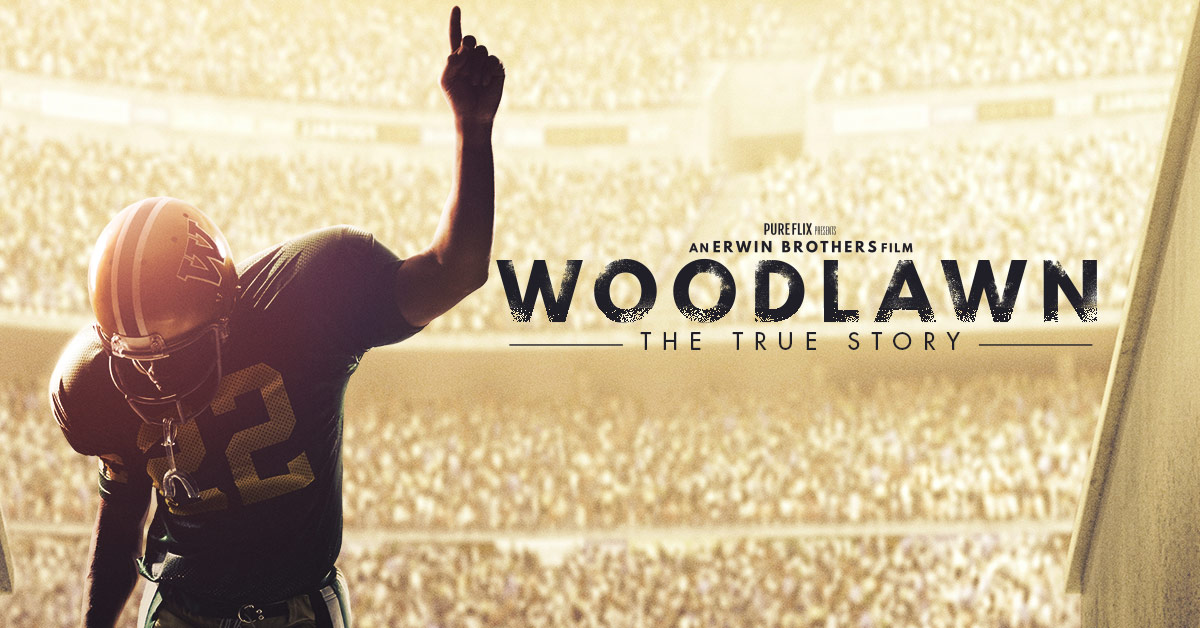 Football season is in full swing (I understand this is a baseball reference but I find it fits.) and what better way to get ready for the games than watching movies related to the sport! I find that football movies have been very popular in the Christian movie market but I believe it's not because it's just football though. These movies have resonated with people so much because, yes, this sport is very beloved but also because the sport has many analogies that we can apply to our own walk with Christ and our daily lives. For example, to always hear out the coach's voice and plays, to work together as a team and many others. Woodlawn is a great example of this. The story of this movie was inspired by the true story of coach Tandy Gerelds.
Woodlawn is about a very talented high school football player who must find a way to accept his gift and hold onto his faith as he faces racial friction in the football field and in his daily life.
Since the 1960s the Civil Rights Movement was realized and many of its leaders kept pushing through so discrimination towards African American people would be illegal. Some laws were made, some were continuously not followed and African Americans continued to suffer as discrimination kept on taking its toll. Even by the 1970s when you think things would've gotten better, they didn't. Schools especially were somewhat hesitant regarding integration and it definitely remained a hugely controversial topic. Our story is situated in the early 1970s in Woodlawn High School. This school has only more than 2,000 white students and now are forcefully required to take in approximately 500 black students who most of them come from the poverty-stricken parts of the city. This causes trouble, from nasty looks among white and blacks students, terrible fights and racial slurring among the football team.
Coach Tandy Geralds quickly notices that all he can see in his players' eyes is irritation. That both the white and African American students are not happy with the integration that has been forced upon them. He plans to take the anger that all of his players feel and make them use that to win games. Their fall season has just begun and the Woodlawn Colonels want to win. Now we meet Hank, a sports chaplain, arrives to send a message to the players of Woodlawn, a message quite different than the one their coach was giving them. Hank's message involved Jesus and all he wants is for the coach to give him the opportunity to talk. Immediately coach Geralds declines Hank's approach but when a huge fight occurs at school, Geralds gives in and gives Hank a few minutes to talk to the team. After Hank's talk, the team is challenged to give their lives to Jesus and to live a different life on the football field and outside. This causes an effect in the school and slowly but surely redemption begins to appear in hearts and the racial tensions begin to subside. This effect not only happens in the school and the Woodlawn football field but throughout their city, this mainly is because of the doing of one black player, Tony Nathan.
Tony has a tremendous talent to play football but at one point he didn't enjoy being hit. So he does all he can to train and learn how to take those hits. Whenever he would get better at his position, more racial slurs were directed at him, pressuring him to give up and quit the team. Tony remained persistent and was courageous to continue on in the game he loved and in life.
At one point in Woodlawn, a game was held and the school administration informs Coach Geralds that he can't continue leading his football team and the fans in the Lord's prayer since it's a clear violation of the division of church and state. But Coach Geralds decides to continue with the prayer before a game, it was now considered a tradition. Since the coach and the team began the prayer, the administration not very happy about it, they turn off the speakers. This doesn't stop Coach Geralds or the team or even the fans, they all continue the prayer without hesitation.
Woodlawn is such a great example of just how one person can cause a positive ripple effect. And Hank's example is one to follow. How he didn't hesitate in sharing his faith with others and encouraging others to embrace that and share it with others as well
Here are other Christian sports movies I enjoy: